Updating Your SwimTopia Site to the New Swim Season
Happy New Year!  For many of our SwimTopia community, it's time to begin planning for the new swim season, and with that comes a refresh of your SwimTopia website. We'll be sharing some tips to help make that transition easier!
Get Ready for a New Swim Season!
First, you'll want to scan through your website content to see if there are any references to policies, dates, deadlines, etc. that are relevant to the last season but may have changed for the new season.
You can edit those pages directly by going to Manage Site > Edit Page Content.
➞ See More about Managing Your Website
Next, you'll need to take care of some back-end administration to prepare your site for the new swim season:
Change the "Season" on Your SwimTopia Site
You will be reminded to create a new season when you use SwimTopia and the current date falls outside the times that defines your current season. You'll want to change to the new season soon to prevent members from submitting a registration on last year's registration form.
When you go to Manage Team > Schedule > Seasons, you'll receive a warning that your season is out of date, and when you click on  "Fix the Current Season,"  your new season will be created for you.
---
Where did everything go?
Once you change your Season, you might notice that some things "disappear." The following items are associated with the current season:
Registration Forms

People*

Role Assignments

Meets & Events*

Sponsors*

Reports*
When you change seasons, that information is retained but will not show up on your site since they are associated with that prior Season.
* Any time you'd like to view these items from a past Season, you can select that Season from a drop-down box.
---
Create New Registration Forms
All registrations are tied to a registration form, so at the beginning of a new swim season, you'll want to create new forms to help you keep track of your members from season to season. Also, if there are any fee changes from one season to another, you wouldn't want past members to show up with a balance due. So it's best to set up new registration forms for every season, and it's very easy to copy last year's forms:
Go to Manage Team > Registration and click "Copy" next to the registration form(s) you'd like to copy.
It's a good idea to include the year in your Registration form title, to keep them organized
Edit the new form to include changes for the upcoming year
Set your new form to "Open" when your team's registration window begins
Close Out Any Old Registration Forms
It's a good idea to look back at prior seasons and close any registration forms that were left open. First, change your site's current season to a past season (Step 1 above), and then view your list of registration forms for that season (Step 2 above). If any forms are still open, slide the "Open" slider bar to the left until it says "Closed."
Note: make sure you switch back to your actual current season before you leave the site!
Update Your Schedule
Meet templates: Review your Meet Templates to ensure they're set up properly for the new season.

Double-check that your Entry Rules and Seeding/Scoring Rules (if using SwimTopia's Meet Maestro™ to run your meets) still apply for the new season:

Once you've set up your Meet Templates, you can apply them to your meets as you fill out your schedule.
➞ See More about Meet Templates
Non-meet events: If you have any recurring non-meet events (i.e., (kick-off party, end-of-season banquet, etc.), copy the event from last season and make appropriate changes.
➞ See More about Non-Meet Calendar Events
Calendar display: Decide if you'd like the calendar on your team's website to show all events for the current season, or to show only upcoming events (with a button to toggle to past events).
➞ See More about Calendar Display Mode
Update Your Roster
When you go to your People page, the members listed are those with an affiliation to the current season (you can easily change to a different season with a drop-down box).
When your members complete the new Season's Registration form, they'll be affiliated with the new Season. Even returning members should complete a new Registration – this will allow them to verify their contact information, update any medical info, agree to any releases and waivers, and pay any membership fees.
The good news is that returning parents will have much less info to enter during registration since SwimTopia will automatically fill their data in for them.
Administrator accounts, those with the red "Admin" badge, will appear in People (even if they do not have a current season affiliation), but their Affiliation will not be automatically renewed with the new season. You can manually add a Season Affiliation to these members by clicking their name on the People page.  Once you've clicked on their name, look to the right for "Add affiliation for" and select the current season from the drop down box on the right, then click "Save."  Note: if they're a parent of a swimmer, their "Parent" affiliation won't transfer to the new season.  These Admins must still register for the new season in order to maintain their family affiliations.

Some key members may have children and thus would not register each year for your team, including some of your coaches and board members. You would follow the above instructions to update their season affiliation. (If they aren't visible, you can search for them in a previous season using the Search function at the top of the People list.)
➞ See More about People
Update Role Assignments
Role assignments are also associated with seasons.  Some roles are set up so the assignments are seasonal, others can be set up so the assignments are ongoing from year-to-year.
Seasonal roles:  If "This role is reassigned every season" is checked, the role assignments will be reset at the change of a season, and all members who were assigned to those roles last season will no longer be assigned to those roles. If you know that any of your members are repeating their role from last season, you have the ability to manage their role assignment manually.
Ongoing roles: If "This role is reassigned every season" is unchecked, role assignments will carry over from season to season.  Once you've changed your Current Season to the new season, you'll see people in your Roster with this Role badge next to their name, and if they haven't completed the registration form yet, they won't have the Parent badge. (Note: if that person will not be part of your team in the new season, their name will still carry forward to this season's roster and they'll be assigned to this ongoing role). If a member is not returning to one of these roles in the new season, you'll need to manually remove them from that role assignment.
Keep in mind, you won't be able to assign somebody to a role if they aren't a member of the current season.
Note: Once a Role has been set up as being reassigned each season (or not), it's best to leave that setting as-is.  If you need to change that setting, it's better to delete the Role and create a new one.
Go to Manage Team > Roles and then click on Role Assignments in the upper right corner.
To remove a name, click on the "X" next to the member's name
To add a name, click on "Add/Remove" next to the role
Begin typing in the name of the member, and select the name when it appears
Click "Save."
➞ See More about Roles
Update Your Sponsors
Sponsorships are tracked per season, so once you update your Season, old sponsors will no longer show up in the section of your website that is created by the Sponsor snippet. You'll need to set up new Sponsorships for the new season, and we offer a handy tool for copying Sponsorships from one Season to another:
Go to Manage Team > Website > Sponsors > Sponsorships
Select the last season
Select all the Sponsorships that will be renewing for the new Season – you can either select all by checking the box above the top of the list, or you can select individual Sponsorships from within the list
Once you've selected one or more Sponsorships, you'll see a drop-down box that says "Copy to Season"
Select your new season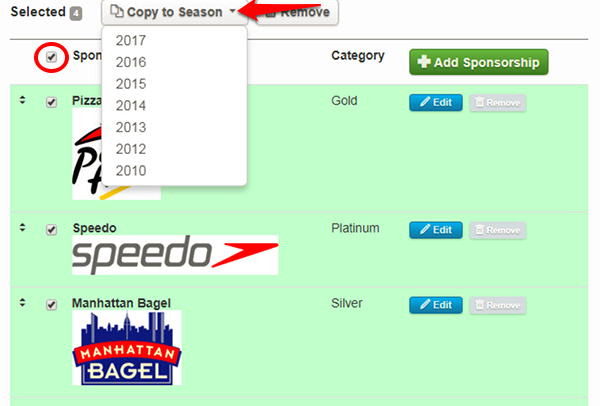 Once the Sponsorships are copied to the new season, you can edit their categories.  And you can add new Sponsors to your new season's Sponsorships.
➞ See More about Sponsorships
Create New Merchandise Items
Products are not tied to seasons, so if you need to make changes to a product, it's best to create a new product rather than edit an old product. If you were to simply edit the old product, it would effectively change the description of the item for all past orders, too, and would affect tracking and reporting.
Also, if you have any merchandise items with order limits, SwimTopia will see last season's orders as accumulating towards the overall quantity ordered. In these cases, it's best to create new products for the new swim season rather than use or edit the old product to make it fit for the new season.
If the changes to a product are minor, it may be easier to make a copy of last season's product and then make your edits (rather than create a whole new product). Go to Manage Team > Merchandise, then click on the product, and click on "Copy."
Voilà!
With a little bit of housekeeping, your SwimTopia website should be all ready for your new swim season to start! And don't forget to mine your volunteer base for help! With all the parents on your team, it's likely that many folks would love to help, and some may even have website management skills. (And this might even have a side benefit of helping you recruit future administrators, committee chairs, or board members!)
If you have any questions, don't hesitate to contact our Customer Happiness Team by submitting a Help Center request or 877-856-2940 (option 2).
Happy New Year, Happy New Swim Season
from your Customer Happiness Team at SwimTopia!